The Top Dog at the Dirty Dog Franchise, Leland Nelson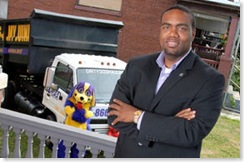 .
.
.
.
.
Name & Title: Leland Nelson, President and Co-founder

Concept Name: Dirty Dog Hauling
Franchisor Corporation Name: Dirty Dog Franchising Group, LLC.
Year Founded: 2005
Year Franchised: 2007
Number of units, company: 1
Number of units, franchised: 2
Initial investment: $25,000 – $93,000 (Average $75,000)
Home-based Business?: Yes, initially
Net worth/Financial Req.: $100,000
Priority Markets for Expansion: TOP 30 Metropolitan Markets
Contact information for franchise program: franchise@dirtydoghauling.com or 1-888-232-4175
FranBest: How do you describe the Dirty Dog Hauling franchise concept?
LN: Old business…New Technology! Dirty Dog Hauling ("DDH") and its franchise partners provide professional, reliable, courteous junk removal to residential and commercial customers. We live in a "disposable society" – Everyone has Junk – but they don't have the time to get rid of. In addition, the garbage companies do not provide the labor needed to clean out garages, basements, attics, backyards, etc – but Have NO FEAR…DIRTY DOG is HERE! (laughing)
DDFG has developed a scalable and proprietary system for removing unwanted items from residential and commercial properties. Our model enables our franchise partners to work on their business and not in their business by providing a turn-key system of operation and ongoing support. Incoming sales calls are taken by our Call Center through an 800# (1-866-4 MY JUNK) and dispatched to the franchise operator, based on zip code through our proprietary "PawTracker" system. Pawtracker books, dispatches, analyzes and tracks jobs, customer data and other key performance metrics which are monitored by the franchise partners through Dashboard Reports.
FranBest: How do you describe Dirty Dog Hauling services?
LN: Simply – Point it Out and We'll Take It Out. Our customers enjoy the "Hands-Free" removal of their unwanted items from basements, backyards, attics, garages, anywhere that junk is…the Dirty Dog will sniff it out!
FranBest: How did you start the Dirty Dog Hauling concept start? What need did it fill?
LN: In 2005, me and my long-time friend, teammate and fraternity brother Gary Fallings purchased a 1976 Chevy 1-ton dump truck from a local landscaper in Carlisle, Pennsylvania and decided to become "weekend warriors". We would complete small hauling jobs on the weekend for supplemental income. We earned degrees in accounting and education, respectively, but we found ourselves subsequently unemployed as a result of state and corporate lay-offs. This is where one of our core values kicks it – TENACITY. This adversity created an amazing opportunity for full-time ownership, allowing us to dig into the dirty – but lucrative world of junk hauling.
After successfully servicing the needs of residential and commercial customer throughout Pennsylvania, we had a chance meeting with a world-class franchise consulting firm at International Franchise Expo in March 2006. Following an enlightening experience that revealed the endless potential of franchising, we made the commitment to complete the processes required to bring the proven Dirty Dog Hauling system to the franchise market place. Dirty Dog Franchise Group, LLC is currently awarding throughout the United States.
FranBest: Why did you decide to franchise Dirty Dog Hauling? When did you launch Dirty Dog Hauling franchise program? How many franchises are currently up and running?
LN: We began offering our franchise opportunity in February 2007. We sold our first "two-territory" deal to franchisees in Lancaster, Pennsylvania. This location has been opened for 3 months. We are receiving over 2 dozen inquiries per month and we expect to have 8-10 more agreements completed by the end of 2008.
FranBest: Where are you looking to expand? What types of markets and demographics work best?
LN: Our goal is to complete 8-10 more agreements by the end of this year, and to be in every major metropolitan market by the end of our third year of franchising. Metropolitan areas, where there is a large amount of transition and development and significant amount of disposable income in the city and neighboring suburbs, is where we will focus our strategic growth.
FranBest: What are the primary responsibilities of Dirty Dog Hauling franchise owners? Is there a "typical day" in the life of a franchisee? Does this remain constant throughout the year?
LN: We are looking for franchise partners who have a positive and outgoing personality and can properly execute our marketing and administrative systems. The core values at DDFG is defined as "F.E.T.C.H." which is short for Faith, Enthusiasm, Tenacity, Community and Hard Work. A typical day for a franchise partner is to inspire, market, network, strategize, review and provide feedback. The myth is that – "I HAVE TO HAUL JUNK" the reality is that "YOU RUN A BUSINESS THAT PROVIDES JUNK HAULING SERVICES". Flexibility is the constant with this business – each customer will have a different situation which keeps the business fresh and not mundane.
FranBest: Tell us a little bit about the kind of person who would make a good Dirty Dog Hauling franchise owner? What are the backgrounds of your franchise owners?
LN: The franchisee must have a minimum of $65k in liquid capital, and be ready to make a full-time commitment or have the capital to support a full-time General Manager.
Our franchise partners usually come from business backgrounds and they understand the importance of networking and building relationships.
FranBest: What qualities are important to you in selecting new franchisees for your system? What makes a good franchisee?
LN: Total "buy-in" of our unique system of doing business. We are flexible and will listen to the comments and concerns that our franchise partners provide us. I'm a "Big 4" accounting firm alum where I learned how to develop systems that now enable our franchise partners to work ON their business and not IN their business. "F.E.T.C.H" are the core values that each potential franchise partner must demonstrate to us in the selection process. Remember, we award franchises not just give them to the person with the deepest pockets.
FranBest: How do Dirty Dog Hauling franchise owners attract new customers? How do they create repeat business?
LN: This is where I get super excited – because we are not in the "Junk Hauling" business, but rather the "Junk Marketing" business. Our name is trademarked protecting us from competition and our name stands out as the one of the most memorable and marketable in the industry. We tell our potential franchisees that they will "lose their identity" and be called Dirty Dog everywhere they go. WE LOVE IT!!! THAT IS BRANDING AT ITS CORE.
Customers are attracted to Dirty Dog by seeing our trucks around town, which serve as moving billboards, as well as our yard signs and various advertising collateral. We also market to houses around the current customer. Furthermore, our website is one of our biggest lead generators and we are optimized on the web to give the best exposure to people looking for junk removal services.
Unlike most companies that focus on customer satisfaction, Dirty Dog Hauling focuses on customer delight. Furthermore, our Customer Service Representatives ("CSR") conducts follow-up calls to foster customer relationships and encourage their referrals.

FranBest: Of the training and support services you provide franchisees, which do you think are most valuable to their long-term success?
LN: Support, support and more support coupled with our 250+ page confidential Operations Manual and a 5-day in-house training program at "Dirty Dog Hauling University". The University includes a combination of roll-play and real-world exercises to help the franchisee become familiar with all aspects of the business, including a startup checklist, hiring and training procedures, bookkeeping and office organization, budgeting, marketing, sales and even junk removal procedures. Attendees graduate with a "Certificate of Junkology".
FranBest: What role does technology play in your organization?
LN: Our significant investment in our customized proprietary industry-specific software called PAWTRACKER allows the franchisee to stay ahead of the game with an all-in-one solution to growing their business. The software is a secure, web-based intranet application with off-site backup that is accessible wherever there is an internet connection, so the franchisee and his team can login from any location. The software allows them to manage and view their customer contacts and truck schedules in real-time, while outsourcing the scheduling and inside-sales tasks to the franchisor. The software gives the franchisee the advantage of updating the status of each job, setting routing parameters for each truck and each employee, managing jobs, estimates, customers, and potential clients. The franchisee can also export jobs to Quickbooks, upload or download important documents, purchase marketing material and branded collateral, as well as communicate with other franchisees on a variety of issues through the community forum. Most importantly, the software records and databases everything for reporting purposes. For example, the franchisee can print a report to find out the most profitable marketing strategies and can also sort customers by type to communicate with specific categories of customers such as realtors or property managers.
FranBest: What makes Dirty Dog Hauling different from other franchise opportunities? How is it a unique opportunity?
LN: WE ABSOLUTELY HAVE THE BEST BRAND IN THE INDUSTRY…PERIOD (smile). Dirty Dog Hauling is currently offering huge exclusive territories in just about every top-tier metropolitan area. There are very few if any junk removal franchise programs currently available. Most other junk removal franchises are either sold out of all prime territories or offering extremely small exclusive territories in sub-par markets.

FranBest: What else should a prospective franchise owner know about Dirty Dog Hauling franchise opportunity?
LN: We are dedicated to assisting our franchise partners in their journey. We spent several years refining our junk hauling procedures and we are committed to the success of our franchisees. At the core, we are a "community-based service provider" that serves the needs of today's "time-strapped" customer in a professional, reliable and courteous manner.
FranBest: Describe your non-business, community and charitable activities of Dirty Dog.
Are they an important element of your concept?
LN: Dirty Dog Hauling has a long-standing relationship with Rebuilding Together and we also sponsor the Dirty Dog Hauling Center City Baseball Tournament, Dirty Dog Duals (wrestling) and community clean-up campaigns. We love the communities in which we serve.
FranBest: What are your non-business goals for Dirty Dog?
LN: To be a solid example in the community that we serve. It is important to be present at fairs, parades, outreach programs, showcases and junk awareness initiatives. Most recently, my partner – Gary Fallings joined the "Keep Harrisburg Beautiful" committee with is a chapter of Keep America Beautiful. It is important for the community to know that we care!
FranBest: There aren't many "minority franchisors" What importance, if any, do you place on your role as a minority franchisor? Does it affect how you do business?
In what ways?
LN: Historically, minorities have not been on the franchisor-side of the equation and I think this is a great opportunity to showcase what can be done when you have an awesome concept that you believe in, a burning desire to add action to your vision and provide a service that can't be automated. Our business is not affected significantly by being a minority franchisor – I think a prospective franchisee must have faith in the franchisor no matter want the nationality. I realize that some people have a misconception of minority franchisors, that why we work extremely hard to showcase our talents and operations.
FranBest: Congratulations on your win at the MBA Business Plan Competition. Tell us a little bit about what it involved, and the significance of the award.
LN: Delaware State University's College of Business participated in the 8th Annual OFC Venture Challenge Business Plan Competition for Historically Black Colleges and Universities (HBCUs) offering MBA/Graduate Business Degrees, in Atlanta, Georgia on April 17-20, 2008.
The College of Business' team presented Dirty Dog Franchising Group, LLC (DDFG), which markets and awards the proven Dirty Dog Hauling franchise system to qualified individuals or entities that are ready to capitalize on a high demand and fragmented industry.
Our team members included Leland Nelson, Founder and President of Dirty Dog Franchising, Boubacar Thiam, Luther Wynder, Ganesh Iyer and advisors Young Kwak and Lisa Dunning.
During the competition, we competed among 20 HBCUs, and was selected as the first place winner of Track 3 to advance to the Final Rounds. For the finals, six (6) teams competed and we placed 2nd and also received the "Outstanding Presentation" award of the competition. We received a total of $5,000 for placing 2nd in this competition.
This was a great opportunity to compare the Dirty Dog Franchising system and concept to other high-tech, low-tech and no-tech companies in the competition. Attendees now have a better appreciation for professional junk removal and franchising. In addition, the name Dirty Dog continues to be recognized as a great brand which is critical for continual growth.